It all started when I was born.....yes, really.....my life has always been, and always will be, surrounded by animals. My mother tells me about a neighbour's Spaniel dog that would lay with me while I lay in my buggy, as a baby, outside. He appeared to be protecting me. I had the company of my Grandparent's Chocolate Lab, Sue, until I was 3 years old, at which time we moved to Prince George B.C. from Merville, Vancouver Island, B.C. Sue was my best friend again when we moved back to the Island, until the day that she died. While living in Prince George I had a parakeet and fish. Well, my goldfish died the night we got the two of them, while we were watching the Shirley Temple movie "Heidi". My brother's tropical fish died a week later. I pet-sat a friend's red-eared slider turtle for a week. When I was 10 years old we moved back to the Island, to Courtney, B.C. We lived in a Triplex, across the back alley from my Grandparent's home. While living there, I had a Cock-a-poo (Cocker Spaniel/Poodle Cross) dog, my grandparent's dog (now quite old), 2 gerbils, a horse that lived out on our country property, and wild-caught bugs, frogs, salamanders, aquatic-life, and garter snakes. My Grandmother always reminded me of my back-yard zoo, that spread out from beneath her back porch, to my own back yard. I'll never understand why the Landlord allowed me to keep all of those critters in the basement of the Tri-plex that we lived in at the time. The male frogs croaked at night, but there was never any complaints from the other tenants. When we moved out to our country property I already had Sandy (the horse), and Scruffy (the Cock-a-poo), but then chickens entered my managerie, along with Cheery (a canary), Spooky (my first cat), as well as outdoor stray cats, mostly because it was a good place for people to dump off their unwanted felines. The cats kept adopting me. I had found a wild-caught Pacific Rough-skinned Newt in the breeze-way of our house and he was with me for 10 years. I received the gift of a fish for my birthday, but I didn't have any luck in keeping him alive either. It was not my forte to keep fish as pets. I was 23 when I got married, and our first Military posting took us to Cold Lake, Alberta. My fiance had a fresh-water aquarium of fish adopted from a friend and we had adopted 2 dogs before we were married. Jason, our English Cocker Spaniel and Cagney, a Border Collie/Cattle Dog Cross. So we pack up the critters; a horse, 2 dogs, Tessy (a cat from a stray cat's pregnancy), and my Newt in a juice jug, and we moved to Alberta. Scruffy and Cheery stayed behind to live out their lives with my parents. Spooky died too young at the age of 5 years, after having lived that long with injuries sustained when he was hit by a car. While living in Cold Lake, along with Sandy, Cagney, Jason, and Tess, I also had Hamsters, 2 black Gerbils, and a female Mouse. Tessy was 13 and Sandy was 26 when they both died in 1994. I had then adopted 3 more cats in the same year. My Hamsters and my Mouse had also passed away while we were in Cold Lake. We moved to Moose Jaw, Saskatchewan, in 1997, with 2 dogs, 3 cats, and Fig and Java (the 2 gerbils). Families with human children always look for schools and doctors when they move from place to place, but I, with my fur-children to care for, look for pet stores and veterinarians. I came across one such pet store and was casually browsing the isles as I sauntered over to the small animal area, and saw.....RATS!!!!!! Rats are illegal in Alberta, so that would explain why I never saw a pet rat in a pet store in the 10 years that we lived in Cold Lake. But, I don't understand why I never saw rats in pet stores for the many years that I lived in British Columbia? I watched the baby rats playing in an aquarium, and I had to have one! So I bought a Barron's Pet Rat Care book, and picked out a little pussy-willow gray female. Yep, I knew even then the difference between a male and female rodent.
Willow was my first rat, so named for her pussy-willow gray baby coat.
Willow was born Oct.08,1997 and died on her birthday, just one year later. Sadly, the Barron's pet book that I had so trusted in, was not sufficient in the proper care of pet rats.
Willow was put to sleep because of a respiratory disease that I have come to know as "Myco".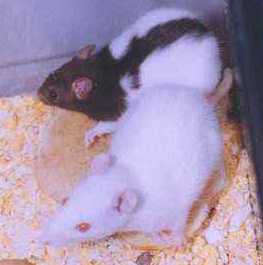 By now I had learned that rats are happiest when they have a cage mate so I picked up two sisters, Belle(Black-hooded) and Starr(Pink Eyed White), so named after an Elizabeth Montgomery western movie of the same name. Belle died at the tender age of 10 months old, again from "Myco". Now I was getting upset over this respiratory disease, and my own lack of knowledge on rat care. I pride myself on doing an in-depth study of any pet I acquire, but there didn't seem to be sufficient information on proper rat care in the books that were available to me. Around this time, January 1999, my husband and I set up our first computer. I began to research pet rats on the internet, in earnest, and I found the Ratlist in Feb. 1999. I have joined many more rat forums since finding the Ratlist and founded some rat forums myself. All of them continue to be an indispensable source of information and help for me.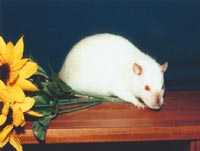 I entered cat shows, as an exhibiter, in Regina when I moved to Moose Jaw, and, at one such cat show, I met another exhibitor who was a breeder of rats for the local pet stores.
I brought Jazmyn home after one of these shows. I thought Jazmyn was a pretty name for a Siamese rat.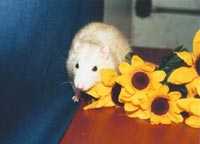 Now, I blame the Ratlist
for this fourth rat that I brought into my home, after purchasing her from a pet store. I had every reason to believe that this girl was already pregnant when I bought her because she was still in the tank with her male relatives. I had confidence that the Ratlisters would advize me through the birth and raising of the pups so I was ok with the idea. Sage was so named because the lighting in the pet store gave her beige coat a greenish sage tea look.
Just about 2 weeks later Sage blessed me with 9 babies. The pet store owner and I had made arrangements that I could return the pups to the store for resale, but, by the time they were weaned, I had fallen in love with the whole lot of them.
I kept all of the babies..............
And this is how my love for rats grew into "The Spaz Rats Empire" Rats are the closest animal that resembles a dog that I have found in a rodent pet. I loved my gerbils, and hamsters, and mouse, but that was before I met, and got to know, rats. Now that I have rats in my life, I can't imagine having any other pocket pet. Well I recently added 3 mice to my managery.
I have rats that wrestle with my hand, chase a piece of string, mark me as their own as they walk over my hand, or foot. Some beg to be picked up. Some come when they are called. They give me kisses, dive down my shirt, or climb into the sleeves. They want to be cuddled, or sit on my shoulder, or enjoy being petted while sitting in my lap. They play hide and seek, or tag, with a cat, they allow a cat to groom them or eat with them. And some try to pull my shirt or my fingers gently into their cage. No offense meant to those who love the other little critters, but I never found them to be as affectionate, and interactive towards humans as rats are. I don't mind being obscessed over rats.
Background provided by Bella's Web Art
TOP OF PAGE

BACK TO ABOUT ME

HOME

---
This site is being created by Sandra Beasley
Copyright © 2002-the present time
All Rights reserved