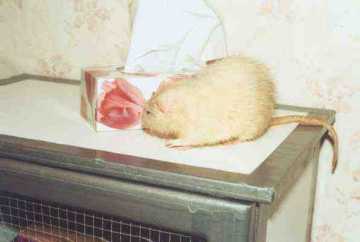 Jordi
aka Jordache, Short-a**, Jordson
Registered Name: HR Jordache Forever In Bluejeans
Born: September 13,2000
Pearl Merle Berkshire Standard Top-eared Buck
PEDIGREE
JORDI'S 1 HOUR OF FAME
Jordi is my first pedigreed rat. I met the breeder in another town to buy Jordi for $25.00. He is the pride and joy of both his breeder and myself.
Jordi is my biggest rat, weighing in at 726 grams.
Jordi's most endearing quality: He's an ear nibbler and when you scritch his bum, he runs away, but he has to come back and check out the hand that did it. He also likes to walk over my feet and mark me as his own.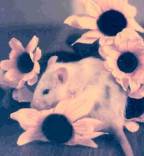 Jordi at 8 weeks old