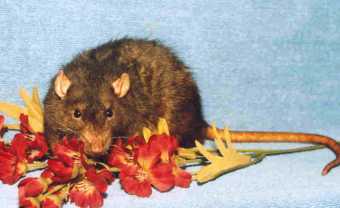 S'isko
aka Sissy
Born: Oct. 31,2001
Chocolate Berkshire Rex Top-eared Buck
S'isko's most endearing quality: He's suave and chic and he knows it. Maybe he's a little too proper? He's the only one of the 6 brothers who doesn't squirm when I pick him up.
May 20,2004: At 2 years, 7 months, S'isko is really showing his age. Getting thin in body and coat, hind end becoming weak, and the beginning of respiratory disease.